About
MAHUL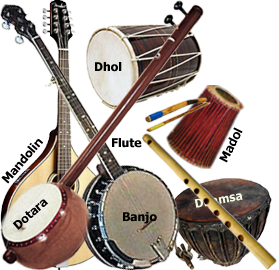 MAHUL
is actually the name of the extract of Mahua fruit which is easily available in Purulia region of Bengal which has big contribution towards Bengal' rich folk culture and music. This liquid is one kind of liquor which has a typical flabour and smell. It generates energy and its enchanting taste beings on a spell of trance and it elevates the mind to a sublime state. Though we are totally devoted to different types of Bengali folk songs of all over Bengal but we have a special inclination or liking towards folk songs originated from this region of Bengal.
Mahul Lokoganer Dol do research in various folk forms of Bengal. Beside Baul, Tusu, Bhadu, Bhatiyali. Rabindra Nath Tagore occupies a very special place in their heart. Mahul is now working and researching on his works, songs, compositions & paintings and some productions based on their research are ready in this 150th Birth Anniversary of Viswakavi Rabindra Nath Tagore. Mahul is also doing research on rural folk artists and trying to rehabilitate them. They also work in tribal belts so that their traditional ethnic music reach the common people of the World.
Instruments used in Mahul's Programme are Bengal's Dhol & Dhak, Tabla, Mandoline, Banzo, Flute, Dotara, Khamoke, Madal, Khol, Ektara, Harmonium etc.
Songs rendered by MAHUL on Programmes:
Baul, Bhatiyali, Jhumur, Bhowyya, Chatka, Tushu, Bhadu, Gombhira, Gaji, Lalan, Hasan Raja, murshidi, Murfatti, Shari, Jari, Alkap etc. almost all the varieties of Bengal's Folk along with traditional tunes from other provinces of India.
First Album "
MARANGBURU
" produced by Song India. 2nd Album is release by PRIME MUSIC named "
PHATAPHATI
" is doing good business all over., it is also a Lokogaan based album. 3rd Album is release by Atlantis Music named "
LALGARER LALMATI
". 4th Album is release by Song India named "
POLASH BON
".
MAHUL's Aim and Vision:
We are collecting the traditional folk songs, tunes, lyrics, folk instruments from the remote villages of Bengal and our aim is to preserve these valuable treasures with full care. We are also doing research on rural folk artists and trying to rehabilitate them with proper respect. We also work in tribal belts of our country so that their traditional ethnic music reach the common people of the World.
Contact for workshop, research etc.
Kadam Kanan, Jhargram - 721507, West Bengal, India
Phone: +91-9433229798, 8584991536

UBI BANK A/C Details - For Customers in India
Your can pay us directly through your Mobile/Net Banking, NEFT/IMPS OR deposit Cheque in your nearest UBI Branch. Click on the logo to find your nearest UBI Branches.
| | |
| --- | --- |
| Beneficiary Name | Lokoganer Dol Mahul |
| Account Number | 0863010185783 |
| Account Type | Savings |
| Bank Name | UNITED BANK OF INDIA |
| Branch Name | Paschim Putiary |
| IFSC Code | UTBIOPPUC58 |
| MICR Code | 700027108 |
#
Do mail us at parthamahul@gmail.com if you face any problem regarding payment.
About
Partha Bhowmik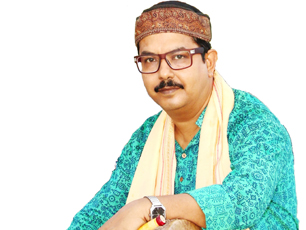 Partha Bhowmik was born and brought up in an atmosphere at a beautiful tropical platue of traditional folk belt, Jhargram, situated in West Midnapore, which is the origin of number of tribal civilizations and ethnic music. Since beginning he was an ardent disciple of the nature to collect the fume of traditional instrument and music. Therefore, despite he has having a very bright academic career; he entirely devoted himself as a strong researcher of traditional music in compilation of Hindustani Classical Music as well as Rabindra Sangeet and was a student of Rabindra Bharati University, Kolkata. He took his lesson on Hindustani Classical Music from Sri. Kamal Choudhury and Rabindra Sangeet from Smt. Maya Sen, Smt, Purobi Mukherjee, Sri. Satyandra Nath Latua and Sri. Tilok Mukherjee. He also took a very significant lesson on traditional folk songs from Sri Dinendra Choudhury, and attended several workshops of eminent folk singer, Sri Amar Pal. Sri. Partha Bhowmik is a registered folk singer of prestigious West Bengal State Music Academy, and therefore, he performed top class musical concerts all over India including different television channels. He also had a personal field visit across India in order to essentially collect the local influence on a specific folk music.
In this regard, before the formation of 'MAHUL' as depicted above, there were three significant folk songs album released by him named: 'GODIR GONDHO', 'MEGHER JAHAJ' and 'BHOOTER KETTON' and which opens a new horizon of traditional folk music. Despite of his personal credibility, he is also a very well known and dedicated Music Director in Kolkata.
About
Sonai Sen
She is a promising folk singer & her specialty mainly the songs of South Bengal like Jhumur, Tusu, Bhadu she sings well. At the early age she was a disciple or Rathin Mazumder mainly of Classical Music at Midnapore. After that She has taken a regular guidance from eminent Folk Singer Partha Bhowmik on Folk music.
Beside her Musical Carrier She has a strong Academic background. Sonai completed Post graduation Diploma from Jadavpur University on Yoga & M.Sc. from Annamalai University on Yoga. She is a regular Yoga Pathist by profession at Kolkata and performer of Mahul Folk Band as a vocalist.
Sonai is the only female performer of Mahul who can play the tribal instrument Dhamsa while performing.
Sonai is the only female performer of Mahul who can play the tribal instrument Dhamsa while performing.
About
Soham Bhowmik
Soham Bhowmik is the youngest member & performer of Mahul Band. He having speciality of playing different musical instruments like Banjo, Mandolin, Dotara, Ukulele , Flute etc. The newly released albums of Mahul completely music design by him. He is a young promising music director of Kolkata. He also performed as a vocalist of the Rabindra Sangeet album "O Bodhu Amar".
Beside playing of different musical instruments now his voice also appreciated from different corner of India. Soham has already performed in different television channels live DD Bangla, Tara TV, Akash Aath etc. and performed in different stage shows all over India. He is disciple of eminent musician Shri Saroj Barua.